Misbehaviour
is a Canadian movie from 2008.
Paul from SFR posted a few stills from this movie, so I took a look at the whole thing.
It turned out the whole movie is more or less about schoolgirls and spanking.
The setting is a girls' boarding school. One of the teachers has a hidden secret for spanking his
students - and a female member of the staff knows about this.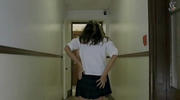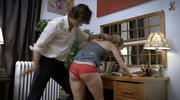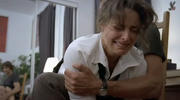 Two schoolgirls get a hand spanking in this movie.
One of them has been promised a scholarship and thus submits to the spankings.
The other one - who has a crush on this teacher - learns about the spankings and is very willing to take a spanking, too.
And there's a third spanking for the female teacher, too. She tries to teach her colleague how to be a better spanker. Which
is sort of nonsense considering her plans, but it's not the only inconsistency in this movie which has a 1.2 out 10 rating at the IMDB.
While the production itself and the acting (except for the spanking teacher's part) is acceptable for this kind of production, both the story line and especially the characters fail to convince.
British viewer, of course, will be totally shocked that spankings do take place in an Elite boarding school. But then, it's a Canadian production.
But others (even vanilla people) will probably fail to understand the total emotional devastation of the spanked girls (who both more or less agreed to it).
On the positive side, the spankings shown are very real, although the spanker apparently is depicted as not very skillful (or rather sadistic),
neglecting the warmup and not respecting the limits of the spankees - which his female colleague in vain tries to teach him.
Anyway, I have tried to put all the spankings, the buildup, the discussion about the spankings and so on in one clip and it turned out to be
16 minutes long (so too long for any video portal where it would not last long anyway!)
The clip in good quality (~175 MB, wmv) can be downloaded at the
Movie Database
!
---